For me, being a photographer, my clients are the most important thing to me and making sure I meet their expectations. As part of this, it's important to me to guide you through the whole experience starting from enquiry e-mails, sending session guides, understanding your needs and then having fun at the shoot itself. However, it's also vital that beyond this I will continue to work with you to make sure you're happy with a wonderful gallery of pictures from your session and any follow-on output like photo albums.
In order to provide the best experience to you I make sure I am well prepared! There is quite a lot of preparation involved with every single session, but as with everything the more you practice the better you get at it!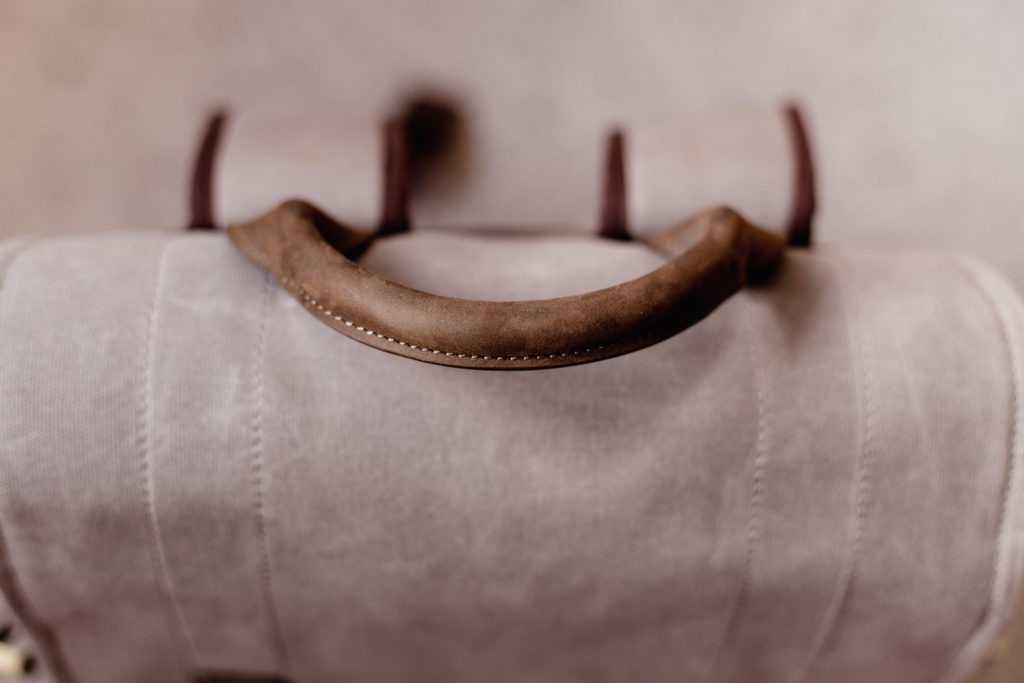 At first I started with a small shoulder bag but I soon realised that it didn't have enough storage. After extensive research, I found the perfect camera bag for a professional mummy photographer. It is from Portage Supply Co. It is very stylish, made of premium quality leather and waxed canvas and I pretty much take this bag wherever I go!
The best part of this bag is that is can also double up as my change bag. I always like to be able to take out my camera where ever I go just in case I see a shot I like. Normally I have my girls accompanying me so I need something that's also functional. The top half is filled with nappies, change of clothing for my girls and a small pink bag where I keep all their creams and cosmetics. It's great and fits everything I need.
The bottom half of the bag has my camera gear. This normally consists of my main camera (Canon), a fixed 35mm lens and a 24mm – 105mm lens. There's lots of accessories in their too, spare cards, batteries, remote switch, a few cleaning items etc. so no chance of any problems hitting your shoot.
During my sessions the top part of my bag has my notepad with all the information you've shared with me about your shoot. I also have my phone and some refreshments (taking photos of children can be thirsty work!). I might keep baby wipes too as they do come useful in all sorts of situations!
What I also love about my Portage bag is that my camera is easily accessible from the side pocket and when I am at the shoot I can leave this bag comfortably standing on its own. It even has a side strap for a tripod however I don't tend to use these during my sessions (children rarely stay still long enough!!). However it's great to have an option and especially useful if you want to do landscape photography. Overall the Portage backpack is a great camera bag for a professional mummy photographer. It is everything I need and I am so happy I managed to find this lovely little bag which makes my work so much easier too!
---
---
You might also like
---