I cannot tell you how happy I am to be back and shooting again! I have already met so many lovely families. Some new clients and also some returning ones with new family additions! I am enjoying the conversations with my clients and finding out how they have been doing for the last year. I also hope we are seeing the light at the end of the tunnel and will not enter another lockdown due to Covid-19.
As my sessions restarted I've been receiving more and more queries about the packages I offer and what is included in each. I am currently offering 3 different packages which are all clearly explained here. As you can see on my packages I am a sucker for physical products! I love them and therefore two out of my three packages offer an album and physical prints.
I am sure you remember and hopefully possess family albums when you were little. If you have children you most likely shared this and showed them an album from your childhood. If yes, how did it make you feel? How did it make them feel? The stories told, the silly hair cuts you had or ridiculous clothing your parents used to dress you in! I for sure have many of those! I love them, I love photo albums my mum created of the trips we had and family celebrations.
This feeling of memories and stories made me realise how important is to have a family album and therefore I created my packages which include the album and prints. Last year I wrote my first blog about the albums and I thought it's a great opportunity to add a little more information about the albums and their features.
Heirloom Albums
All photo albums are finished to the highest standard. The key benefits to the albums are:
Rigid cards – made of silk paper, additionally reinforced with dividers

Perfect corners – neatly finished without creases

Durability – the cards are resistant to dirt and their quality will last for years to come

Up to 100 pages – a lot of room to include the best of your memories

Personalised cover – UV engraving or printing with your personalised message
Covers
Choose your cover style from over 40 different samples.
Camden series – very soft to touch with beautiful colours

Classic – made from 70% of natural leather

Velvet – beautiful velvet material ads that luxury feeling to it

Ethnic – lovely natural colours and earthy feeling

Natural – natural canvas fabric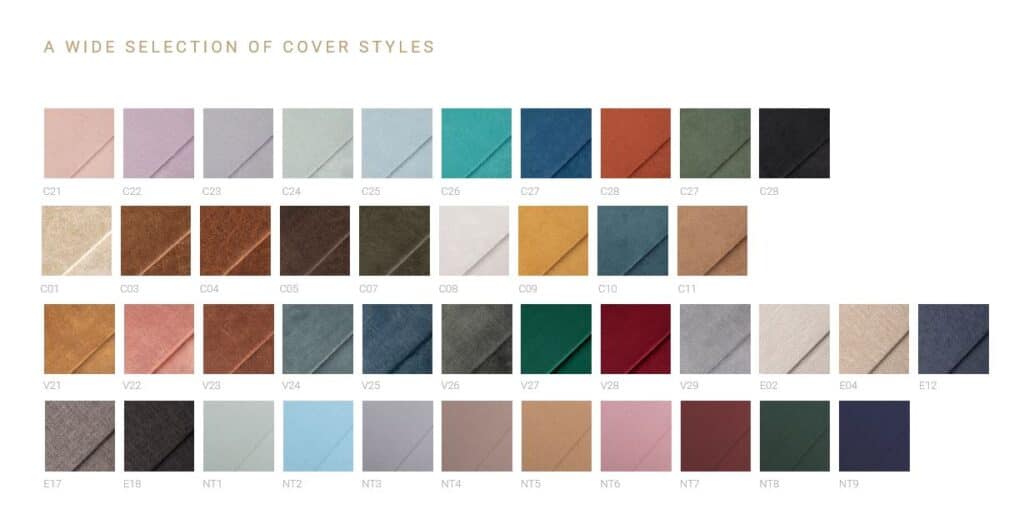 Album sizes
The album starts with a minimum of 13 spreads (26 pages, which can comfortably fit around 45 images. The heirloom albums are available in two sizes:
8″x8″ (20cm x 20cm) or
10″x10″ (25cm x 25cm)
Album samples and how to order
Of course, I want you to have a real feel of an album and therefore I always show you examples of the albums during our meeting. You will be able to see and touch the products. I will also have swatch samples of all colours currently available so that you can see them for yourself and be drawn to the colours you like. During our meeting, I will guide you through the process as well and additionally, I have described simple steps from creating to receiving an album.
Select 45 images from your private client gallery that you would like to see in your album. Please note you can select more and add additional pages at extra cost

Select your cover from available styles

Decide if you would like to have writing on top of the cover page. If yes, decide on the writing and select your font (font examples will be sent to you)

I design an album and send you a direct link to proofing. At this point, you can send me a message to approve the album or make suggestions if you would like to swap pictures around etc.

Once you and I are happy with the design, cover and personalisation I send the album off to printing which takes about 8-10 working days

Album comes to me first and I do all quality checks

Lastly, I pack the album and it's on your way to you to enjoy with your family 🙂
Returning customer or a new customer – How to order a photo album
As I mentioned above, the photo albums are included in two out of my three packages. You, therefore, follow the above 7 steps and the album will be on your way 🙂
However, if you are a returning customer or someone who would like an album from your previous session or you had a session with another photographer but never ordered an album please get in touch with me.
I will then set up a session with you to go through all the details and start creating a beautiful album for you to cherish for years to come.
Photo albums have a special place in my heart and I already have 6 family albums which we often take out from our shelf and look through with my girls or visiting family members. Let the memories tempt you to come back to them again and again and remind you of what is beautiful and important.
Till next time
Ewa x
Order your family album now
---
---
You might also like
---